My Objective:
Recently I have begun a project of High-Fashion Photography. I am focusing on drama of light, eye-reflections and simplicity to tell a complex story in a single photograph. These images were taken with two distinct objectives. The first goal was to create a few very dramatic photos of just the face, while the second objective was to try and create some Abercrombie & Fitch shots (as I saw it only fitting since he wore an Abercrombie & Fitch Jacket to keep himself warm from the surprisingly cold Flagstaff morning). In this article I will explain a little bit about how I captured these cool images.
The Abercrombie & Fitch type shots: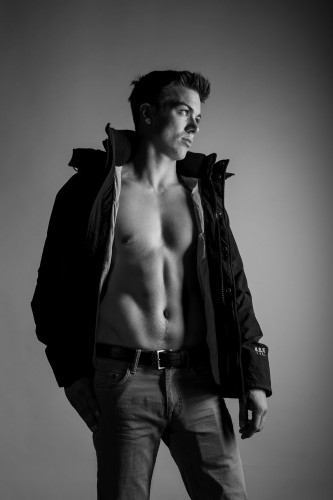 Since he wore a sweet A&F jacket, I could not pass up the opportunity to shoot the A&F look. This photograph was taken using two lights. One light was set up on the right, slightly in front of direct right. I used a long, and narrow, 1×6′ Profoto Soft box, with a Profoto D1 Air 1000W/s Monolight. Just behind me (the photographer), I had another Profoto soft box powered by the same model monolight, this time using a 2×3′ soft box.
But why?
Well… The reason I shoot with Profoto gear is two reasons. 1: I am using my University's photo studio, which is fully equipped with Profoto gear, and 2: It is by far the most professional, and easy to use strobe light source for professional studio work. They are very easy to use moonlights, with tons of awesome features, and a simple dial for the light-power setting, so you can nail the shot every time. The reason I chose the narrow soft box was to illuminate the entire body from head to toe evenly, without causing a difference in light transition. By placing a light source to the side, it helps to emphasize the muscle structure, and create for a more dramatic lighting situation. The reason for the other soft box, more in front of the model, was to help light the other side, as to reduce the contrast, and fill the subject in with more even light, opposed to using only one light, as featured later in this article.
What would I have done different?
The only thing I wish I would have done, was asked him to take his phone out of his pocket. Seeing the outline of his phone in his pocket is slightly distracting and does not add value to the photo. A photo should only contain elements that add value, and nothing else. Anything that is distracting or unnecessary should be removed. As Ansel Adams once said, "There is nothing worse than a sharp image of a fuzzy concept." Keep things simple, and you will create more complex photos in doing so.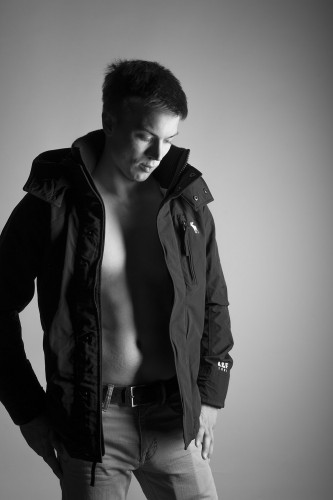 This is an example of basically the same shot and set up as before, however, only using one light instead of two. As you can see, the shadow area is greater, and therefore harder to see his stomach and side of his face. In this image, I found it more fitting to have him looking down at his left foot rather than at the light. Knowing what settings to have, what lens to use, where exactly to position the lights, what settings for the lights to use, what color background and where to focus, is only half of portrait photography. The other half is knowing how to direct your models. This person had actually never modeled before in his life, but by knowing exactly what to say, where I wanted him to stand and what I wanted him to do, I not only built confidence and comfort within him but also got the exact shots I was hoping for. Thus, it would appear as though he was a professional model, when really he was just following my careful direction. Directing a model is not something you can just read how to do in a book, or research on google; you actually have to practice it. Just like any other form of art, directing is an art form in itself. But once you master it, you will start to notice a huge improvement in your photographs, as well as your models ability to actually "model" for you.
Both pictures are equal in my mind. They are just different, with a different focus, and different purpose. But most importantly, they were intentional, and not the accident of taking a ton of photos and just picking one that I liked. I had the preconceived idea in my mind, and through specific efforts executed the idea.
The Dramatic shots:
My second focus of this day was to capture a few dramatic photos with this unique cloth texture.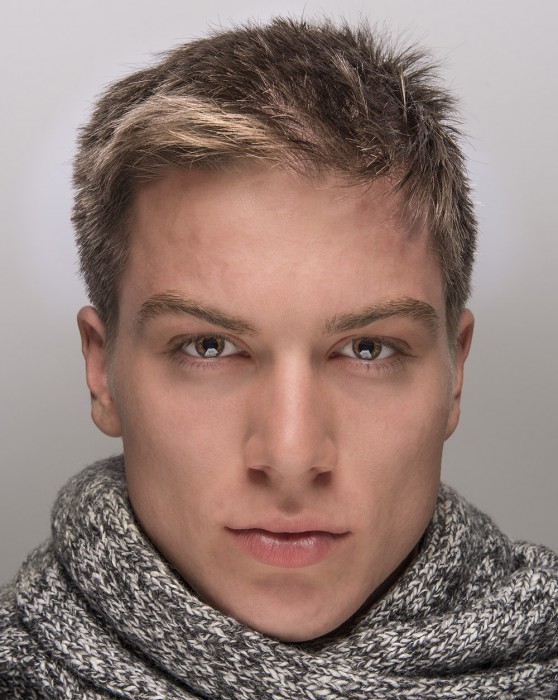 I was sitting in my room one day, and began staring at this sweater of mine in the closet. I started to try and imagine how it was possible to weave such a unique pattern of wool into a sweater. And, after some minuets of getting no further in my understanding of sweater weaving, I started to think of more practical things. I began envisioning this image of the sweater being somehow wrapped around a guys face, with a dramatic reflection in the eyes, and soft light on the face. I knew it had to be black and white, as the design elements would surely exceed the color elements. So on the day of this shoot, I grabbed my sweater as I headed out the door, with the sole purpose of materializing this idea.
In the studio, I began playing around with a bounce-card, trying to get the perfect reflection in his eyes. Also, the bounce-card helps to reflect some of the light from an overhead Profoto Beauty-Dish back on to the model's face, creating an iridescent glow to him. I was intrigued by this look, and wanted to capture an image that showed the dramatic effect that this light setup had on the subject. As you can see, I also had a rear hair-light, that was a 20 degree grid, focusing the light on the side of his face and hair. Then, I pulled the arms of the sweater (which were wrapped around his neck to look like a scarf) up around his face, and began composing my preconceived vision. After paying very close attention to every single fine detail, I stood back and took the shot. And just like that, in 1/250 of a second, my idea was no longer something intangible, something that could only been seen in my own mind, but was actually something real. It was perfect. This is the image that you see below.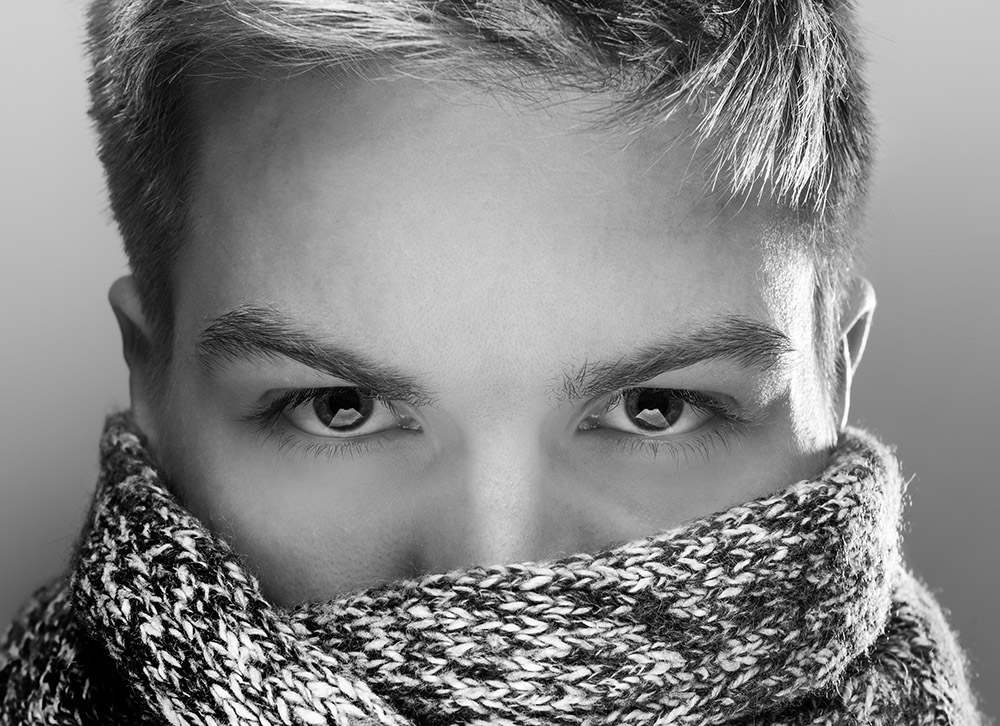 Now go shoot!

My Instagram Feed:
[instagram-feed]
Come on an Italy Excursion with me by Clicking Here!
Come on a Travel Workshop/Excursion with me by Clicking Here!
Follow me on:
By liking my Facebook Page you'll get updates about blog post, travel workshops, and other cool stuff!
"Life is not about the trail you follow, but the path you leave behind"
-me
---